Many women look to Titus 2:3-5 as a model for the testimony of our lives:



The aged women likewise, that they be in behaviour as becometh holiness, not false accusers, not given to much wine, teachers of good things; That they may teach the young women to be sober, to love their husbands, to love their children, To be discreet, chaste, keepers at home, good, obedient to their own husbands, that the word of God be not blasphemed.
"...behaviour as becometh holiness..." .... I love that phrase!

What better encouragement as we seek 'behaviour as becometh holiness' than that of other women seeking the same thing?

And where do we go to find that?

At the well, just like women of 'olden days'! :)

Beginning this Monday, February 2, the website "At the Well.. In Pursuit of Titus 2" will be up and running offering encouragement to women as homemakers, mothers, wives, and daughters of the King! :)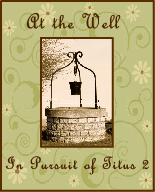 Shall we gather at the.... well? :)
Check it out!
(and click here to find out how to be eligible to win great door prizes!)